Posted by Helena
May 21st, 2009 | 3 responses
This morning - hurray - I finally got some party campaign leaflets through my door!!! I laughed quietly as I realised the different parties had arrived in the same delivery bundle of advertisement leaflets. The bundle consisted of a voucher for a free beer at a nearby pub, a Green party card, UKIP card and a stray leaf, wrapped in a plea from British Gas to switch back.
[By the way, the first I ACTUALLY heard of the elections here, was when my voter card arrived.]
The Green Party's leaflet seemed plain at first, however when I looked into it, it seems to be a sort of reply to a Labour campaign in Liverpool.* Their leaflet stresses the point that you CAN keep the BNP out of seats by voting Green. Which is true, but this blog by Peter Cranie from the Green Party tells a tale of "Labour" leaflets distributed in Liverpool, claiming (to take advantage of the public's lack of knowledge of the PR system, which I couldn't find an in-depth explanation for on our government's website) that voting Labour is the only way to keep the BNP out of power.
With the electoral system we use, my understanding is that if 99% of people vote for anyone at all EXCEPT the BNP, then the BNP will have no chance of a seat. So if the accusations are true, then these "Labour" leaflets are spreading some serious dirty lies.
So how anybody is supposed to be bothered enough to go and research the elections and the options they have, is totally beyond me. That's Y (ha) I joined Y Vote 2009 for one of their tour dates in my hometown Bolton! I met six troopers around lunchtime off the Y Bus to show them our fantastic one-way system and town centre parking areas.
After finding somewhere for them to park, we took a bite to eat and discussed the problems in the local area…
 … oh and maybe we had a bit of fun too. Above we can see enthusiastic campaigners trying to get a Y Vote wristband to fit around their heads.
Then to the streets! I brought them to some friends of mine to kick start the day. There was an overwhelming cry of "not bothered," "MEPs don't work for the things we want," and "European elections? I don't understand." So it was going to be hard work!
Onto the general public, a lot of people ignored us, a couple made worrying comments about the Polish, and one woman, when asked if she was from an EU Country, said "no, I'm from the UK!"
We needed to change our tactics! So we got the balloons out and had some more fun.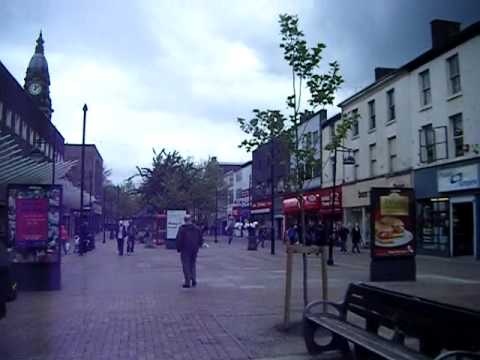 I think our efforts in Bolton were not in vain. Many members of the public left us with the promise that they would register to vote before 5pm today (the deadline). We certainly had a lot of fun and made a few people smile in the process!
The bus had to move on though, and I can only hope that we changed a few people's minds about the importance of elections and raised awareness about what goes on in the European Parliament.
*Disclaimer: I'm sure the Labour leaflets weren't "official" as such so I am not trying to say that Labour are involved in dodgy campaigns or anything, obviously.
Latest posts by Helena
Rate this article