Posted by Etan Smallman
Mar 29th, 2009 | 7 responses
Fellow euro-blogger Frank Schnittger posed the question last week, "Is TH!NK ABOUT IT dying?"
I must admit that the frequency of my posts has trailed off a little of late, but that has had much more to do with an onslaught of university deadlines than a loss of faith in the Th!nk About It vision.
But in contributing to an article about this very competition for XCity Magazine (that's coming off the printing presses as we speak), I discovered that Frank's assertion seems to be a view shared by one of the UK's premier media commentators.
Responding to the question: "Do you think blogging will succeed in bringing Europe to the forefront of the news?" Charlie Beckett, founding director of POLIS, the forum for research and debate on international journalism and society at the LSE, said the following …
I don't think blogging can do that! Europe is of no interest to the public or political parties right now. They have enough on their plates and it would only revive old antagonisms. So irrelevant of new media etc I don't think it is fair to expect bloggers talking in different languages in different media markets to cross boundaries and change political climates.
I find myself disagreeing heavily with Mr Beckett. Don't get me wrong. I have very little faith that a blogging competition is going to engage the continent's youth in European politics, even less, solve Europe's varied ills.
But it is still an innovative attempt to engage people in the EU. What's more, the big Euro news in the UK last week only goes to underline the importance of the internet in setting the political agenda. Daniel Hannan, an otherwise little known Conservative MEP took the opportunity of Gordon Brown's visit to the European Parliament to publicly lay into him. Kristy posted a video of the attack here.
But more than simply seeing someone give the "devalued" Prime Minister a piece of his mind, the fascinating thing about this episode was how it was completely ignored by mainstream media, but developed a life of its own through the likes of YouTube and Twitter. Even more interesting, after getting thousands of hits online, TV stations and newspapers then started to take an interest.
Here you can see how the BBC covered it after its YouTube success.
Channel 4 also covered it afterwards: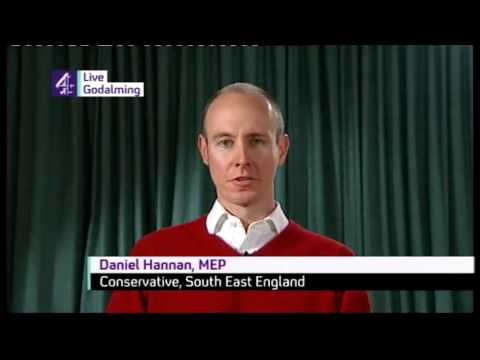 And the Mail. And so on. It might not be Th!nk About It that does it, but it certainly looks like the internet is going to be what generates interest in the EU as the elections draw nearer.
Latest posts by Etan Smallman
Rate this article